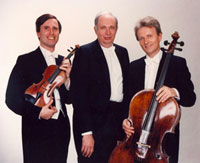 At the beginning of the foundation of Guarneri trio was long-time cooperation of three excellent soloists - violinist Čeněk Pavlík, violoncellist Marek Jerie a pianist Ivan Klánský. Guarneri trio is famous on Czech and international stages; it has been filling concert halls for over 20 years and is the highlight of world festivals.
It took at least half a year of searching and thinking about a proper name before the name of the famous Italian violin-makers' clan from whose shop both string instruments in the ensemble come from was mentioned and when the final decision was made to name the ensemble so.
Their longtime performing has brought a considerable amount of excellent recordings with prestigious Czech and foreign companies. Many of their CDs have been awarded prestigious prizes of recording magazines. Guarneri trio was almost unknown on our stages – it didn't arouse public notice until their performance at Prague Spring in 1990. During their twenty-year cooperation, the trio has performed on prestigious world stages and achieved a prominent place in the world list of chamber ensembles. They performed in Japan, Australia, the USA several times; and places which suited their nature best were England, Latin America, Switzerland and Spain.
Ivan Klánský (1948) ranks amongst the most distinguished Czech pianists. After winning the first prize in the Bolzano International Piano Competition in 1967, he commenced a successful series of achievements in international competitions. Audiences in the whole Europe, Japan, Northern America and Africa could see him perform. He has been holding a teaching position at the Academy of Performing Arts in Prague and the Conservatory of Lucerne.
Čeněk Pavlík (1955) is a prominent soloist of contemporary generation of Czech violinists. His most significant achievements include first prizes in international competitions in Prague in 1976 and London in 1979. He has performed in many European countries with many renowned orchestras and conductors.
Marek Jerie (1947) has performed as a soloist and a chamber player in most European countries, Middle and Far East, and South America. He has been holding a teaching position at the Conservatory of Lucerne since 1979.